Tiempo de lectura:
2
minutos
The first panel discussion held in the context of the #SDsummit revolved around the agile world, its application in companies and the evolution of this methodology. Moderated by Xavier Albaladejo, Agile-Lean Executive Transformation at Voxel, the virtual session featured great professionals in this area such as Sandra Sánchez, Product management & Strategy; Ingrid Astiz, Agile Coach | Culture Advocate; and Ángel Medinilla, Agile-Lean Transformation & author.
From the beginning of the session, Albaladejo wanted to approach the discussion from a broader perspective, focusing on business culture. The conversation, fluid and relaxed, left us with some great conclusions for reflection.
Why are transformations necessary?
"They don't call me to transform a company, they call me for product management issues", explained Sandra Sánchez. The fact is that we still see companies that are very clear about their objectives but don't know what tools to use. And companies that are not clear about what they want, but know that they need to intervene in the organisation of their company.
Ingrid Astiz, who has experience in both Argentinean and Spanish companies, explained that in Argentina transformations arose as a result of conflict resolution. However, companies in Spain seek to resolve operational problems "but which are really problems between people". In this sense, Astiz commented that "what I find a lot is the need to work on authenticity. To expose problems with authenticity and courage. Often tensions are covered up and avoided and we have to bring them out into the open, have the conversation".
In this sense, Ángel Medinilla joked that "companies work by chance", referring to the fact that many companies are aware that they must change and transform themselves but continue to operate by inertia
Tools and recipes for changing an organisation's culture
Aware that it is very difficult to make a list of tools to change an organisation culturally, Albaladejo wanted to challenge the speakers by asking them precisely this question.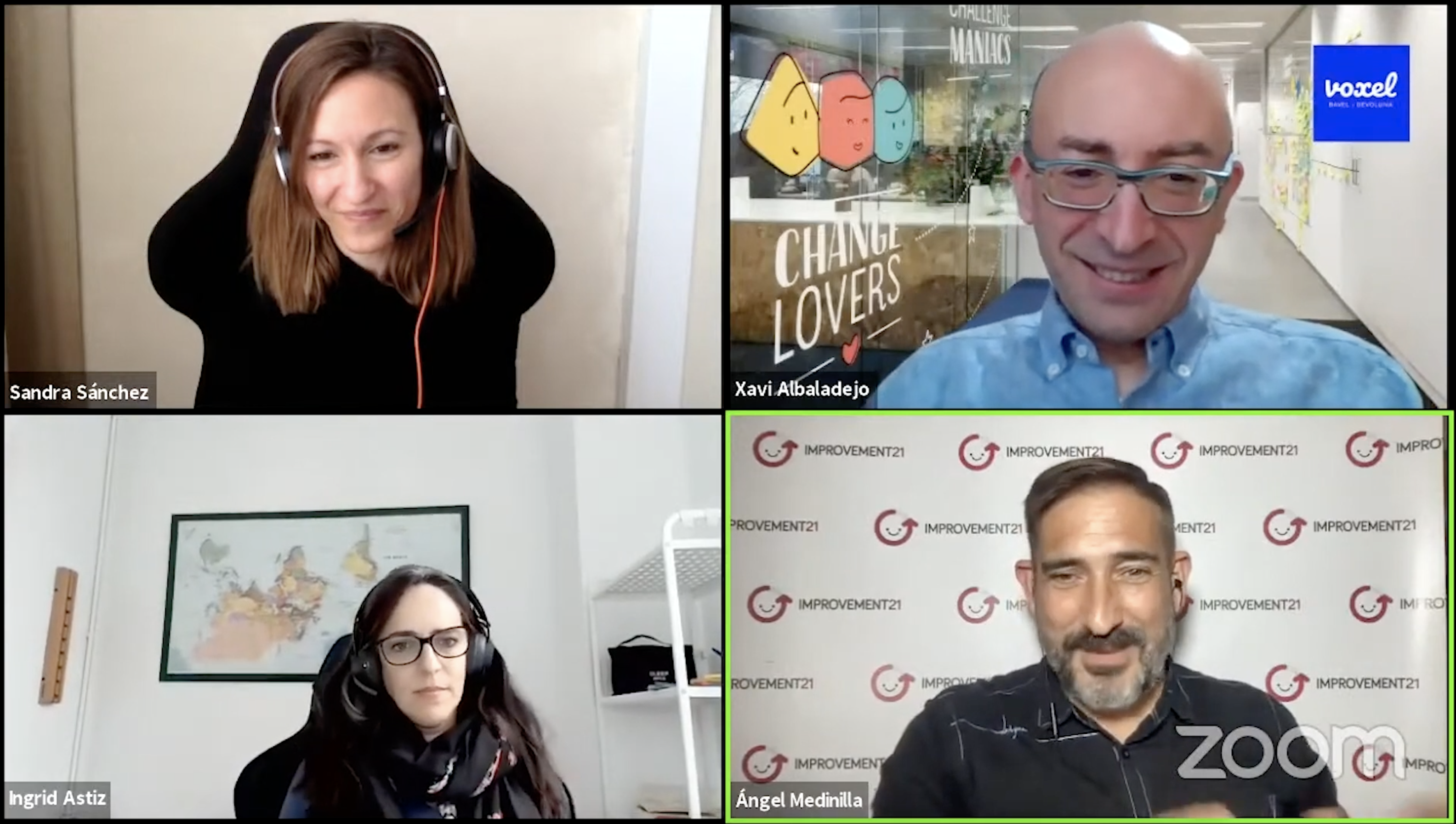 "Changing the culture is a big word," admitted Sánchez. To which Medinilla added, "cultural change comes at the end. First, you make changes in practices, in tools, in structure. That creates friction and with that fiction, you end up reaching a balance that will be the cultural change".
Here are some concrete actions that can be taken, according to the experts at the roundtable:
Allow the error.
Build trust between different areas.
Have conversations, talk. But do it in thoughtful, directed and structured conversation spaces.
Retrospectives.
Give teams problems to solve.
Create multidisciplinary teams around the value chain.
"Another axis of change is leadership. One of the things that can work very well is for the Board of Directors to work as a team", added Xavier Albaladejo. And Sánchez added, "the leader has to get tired of giving context. He or she has a lot of information and must be able to explain it so that it is useful".
Agilists: a bit of humility
The session ended with a reflection shared by both the speakers and the moderator: there are no good or bad cultures. It is necessary to be humble when entering a new company to see how we can really help these people.
"My purpose now is to make companies aware of how they are organised. If they like it and if it works for them how they are doing it, that's perfect", Medinilla explained.
Undoubtedly, a relaxed and interesting talk that made us reflect on the real application of agile, the future of this profession and the real needs of companies.
You can watch this session again here.